Gallery of Fundraising Ideas

Index to Ideas:

Click the links below for ideas that will help you double your fundraising dollars

Fundraisers for Children & Young Adults:
Auction Fundraiser

Autumn Harvest Fair Fundraiser

Bake Sale Fundraiser

Barbeque Party Fundraiser

Battle of the Schools Fundraiser

Beverage/Food Stand Fundraiser

Book of Stories/Photos as a Fundraiser

Calendars as a Fundraiser

Candy Sale Fundraiser

Car Wash Fundraiser

Dance-a-Thon Fundraiser

Fountain Donations

Free Car Wash Fundraiser

Garage Sale Fundraiser

Good Deeds Day Fundraiser

Goodie Raffle Fundraiser

Greeting Cards Fundraiser

Haunted Schoolhouse Fundraiser

Holiday Egg Hunt Fundraiser

House Party Fundraiser

Ice Cream Social Fundraiser

It's Raining Cats and Dogs Fundraiser

Jump-a-Thon Fundraiser

Lawn Mowing Party Fundraiser

Leap of Faith Fundraiser

Miniature Golf Putting Challenge Fundraiser

Multi-Cultural Festival Fundraiser

Pancake Breakfast Fundraiser

Penny War Fundraiser

Photography Trip Fundraiser

Pizza By The Slice Fundraiser

Private Movie Party Fundraiser

Pumpkin Carving Party Fundraiser

Restaurant Wait Staff Fundraiser

Sports Challenge Event Fundraiser

Talent Show and Competition Fundraiser

Waiter Person for a Day Fundraiser

Walk/Run-a-thon Fundraisers

Youth Donation Boxes
Cause-Related Marketing:
Sample letter of inquiry

Co-Labeled Wristbands Fundraiser

Free Gas for Life Raffle

Hotel Keys to Treasure Fundraiser

Prize-Inside Fundraiser Campaigns

Scratch Card Fundraiser

Shopping Spree Fundraiser

Specially-Labeled Packaging Fundraiser

Sports Team Fundraiser
Planned Giving:
Appreciated Securities

Bargain Property Sale

Business Interests

Cash Gifts

Deferred Gift Annuity

Donor Advised Funds

Gift Annuity

Lead Trusts

Life Insurance

Personal Property Gifts

Real Estate Gifts

Remainder Annuity Trust

Remainder Unitrusts (FLIP Unitrusts)

Retained Life Estates

Retirement Plan Assets

Special Partnership Interests

Will or Revocable Trust Bequests
More Fundraisers that are NOT in the book:
Supporting Resources in Book

Videos "Best of the Best"

It's Raining Cats and Dogs

Walmart/Sam's Club Store Grants

Promo/Demo for MissionFish & eBay Giving

Mobile Fundraising for Non-Profits (1-Hour Workshop)

How to Create a Zazzle Logo Product

How to Run a Silent Auction

Charity Distinguished Speaker Events

MS Challenge Walk Cape Cod

Wine Tasting: Detroit Uncorked

Wine Tour of Napa Valley for Charity

How to Build a Wishing Well for Charity

Children's Festival - Los Angeles 2010

Battle of the Schools Event

Clever Candy School Fundraiser

Free Community Car Wash

Good Deeds – HERO

How Many Candies are in the Jar? Whew!

How to Create and Print Online Greeting Cards

Akron Haunted Schoolhouse

Holiday Egg Hunt - Children's Miracle Network

Ice Cream for a Good Cause

It's Raining Cats and Dogs

How to Play Leapfrog

Inspiring Kids through Photography

Selling Pizza by the Slice

How to Have an Outdoor Summer Movie Party

How to Be a Good Waiter/Waitress

Dashing for Doughnuts! Krispy Kreme Event

Big Brothers Big Sisters Talent Show

Chicago Boys & Girls Club | Making Charity Boxes

So You Wanna' Have a Bake Sale?!

Suffield Academy Dance-a-Thon

Charity House Party – Invisible Children

Mega Jump-a-Thon

Wachusett High School Mini Golf Fundraiser

Hillside Pancake Breakfast Fundraiser

Lancaster Bible College Penny War

Pumpkin Carving Ideas

Bryan Clay Foundation Walk-a-thon School Fundraisers

How to Make Custom Wristbands

Free Gas for Life Lotto

Mystery Prize Inside

Charity Shopping Spree

The Yoplait Pledge
Pictures, Examples and Links:
Illustrations:
Appreciated Securities Illustration

Bargain Property Sale Illustration

Business Interest Illustration

Cash Gift Illustration

Deferred Gift Annuity Illustration

Donor Advised Fund Illustration

Gift Annuity Illustration

Lead Trust Illustration

Life Insurance Illustration

Personal Property Gift Illustration

Real Estate Gift Illustration

Remainder Annuity Trust Illustration

Remainder Unitrust Illustration

Retained Life Estate Illustration

Retirement Plan Assets Illustration

Special Partnership Interest Illustration

Will or Revocable Trust Bequest Illustration
Magazine
Supper Club Restaurant Tour
Quick Overview of eBook and Fundraisers Shown on This Site (Click Movie Below):
Sponsored Message:

View related charity fundraising articles: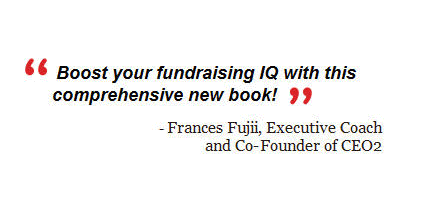 Donations Declining? Cutting-Back Services?

This is a 350-Page eBook That Shows You How to Easily Double Your Fundraising Dollars!


Whether You're a Non-Profit, School, Church or Political Entity, This Book is Loaded with Fundraising Ideas to Stimulate Your Fundraising Team!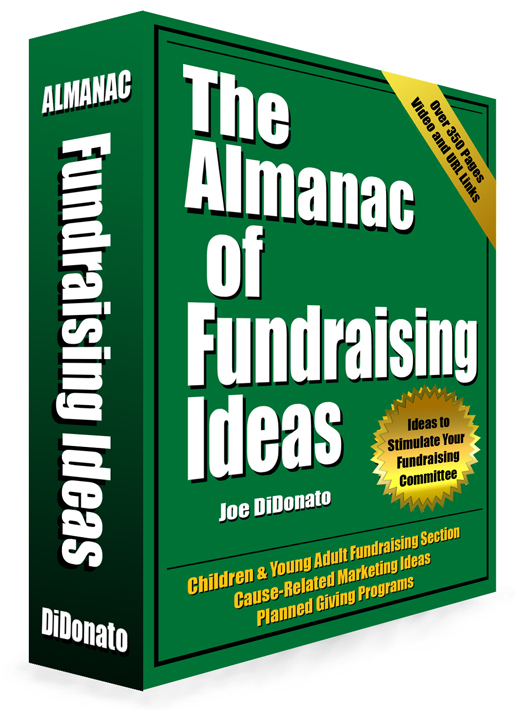 Author Biography/Contact Info (click): Joe DiDonato

Buy/Download eBook Immediately Below.
(Gift Certificates are also available)
NOTICE: If you're a senior citizen, a non-profit under $5,000/year, or a student, we have a special price for you at: Special Pricing.