Video Courtesy of Howdini Guru

Our Sponsors for This Page:
To Order
The Almanac of Fundraising Ideas
eBook:
Gift Certificates are available when you check out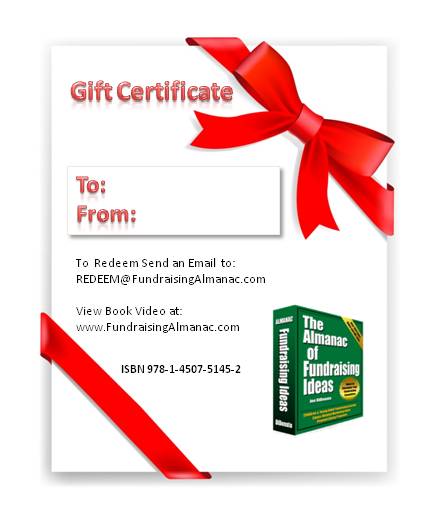 Community Garage Sale

| | |
| --- | --- |
| Potential Revenues: | $$$$ |
| Revenue Source: | Fee for homeowners to participate; a map fee for visitors; sales of your own donated items; 20% commission fee on sales – tax deductible of course. |
| Advertising: | Social media, posters, flyers, direct mail, press releases, media ads, all communications, website |
| Equipment/Supplies: | Maps of participating households, signs, balloons |
| Partners: | Homeowners, business sponsors, printing sponsors |
| Volunteers Needed: | To manage traffic, morning coffee/donuts, signs, balloons |

How It Works:
This is a terrific community-wide event that honors your charity.

You provide a map that gets to all of the participating homes. To run a Community Garage Sale, you round up as many homes as possible in your community, and then advertise the event in stores, bulletin boards, newspapers, and wherever else you think people will be interested in this type of event.

Your committee does the soliciting of homes, the publicity, and then provides maps, balloons, and signs for directing traffic.

The homes are enticed to participate because of the event's publicity.

Volunteers and signs help people find the homes, and bargain hunters start touring the city in search of treasure.

Start the event from a central meeting point where you can hand out maps, and serve some very light refreshments – donated, of course!

This is also a place to sell some of your own wares, especially donated items.

You could even mix in a silent auction (see discussion under silent auctions on this website).
Ideas to Consider:
Solicit as many volunteers as possible to talk to people in their neighborhoods. Perhaps you can get a school group or another organization involved to help you with the recruitment of homeowners. You might want to check with a local restaurant or breakfast fast food operator to see if they'd donate the food at the central kick-off site where people pick up the maps. Staff your own booths at the kick-off site and fill it with your own donated items. You can find a lot of bargains at dollar stores. Even better are suppliers to dollar stores, such as Concord Enterprises at www.DollarItem.com, or through Dollar Store Suppliers at www.DollarStoreSuppliers.com.
If you go with a central location, then activities that draw crowds include a grand prize drawing, a silent auction area to sell donated items, a petting zoo for the children, caricature artists, balloon artists, face painting artists, demonstrations, musical performances, food vendors, and even pony rides. Remember that it's important to get people to travel to the homes where the homeowners are waiting. The more sales generated at the homes, the larger their donations to you.
Another excellent opportunity is to talk with a local newspaper to see if they would donate a page for you to list mini-classified ads for each homeowner participating in the event.

Free is best. However, they might do it and share the classified fees.

Try to get a PSA (public service announcement) with a local radio or TV station.
Source of Idea:
The author believes this to be an original idea that was reengineered from an Artist Studio Tour he helped run while an Art Commissioner in Thousand Oaks, CA.

The studio tour used maps for visitors to find artists' studios and had a kick-off breakfast at the city's art gallery.