Video Courtesy of Goodwill Industries of Southwest Florida

Video Courtesy of The Taos News' Festival of Trees & Wreaths

Our Sponsors for This Page:
To Order
The Almanac of Fundraising Ideas
eBook:
Gift Certificates are available when you check out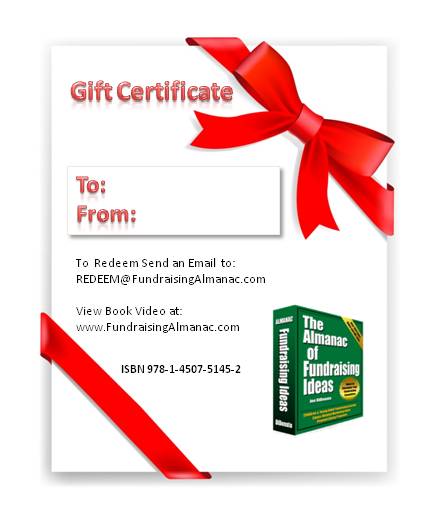 Festival of Trees

| | |
| --- | --- |
| Potential Revenues: | $$$$$ |
| Revenue Source: | Attendance fees, sale of decorated trees, food/drink sales, gift sales, donations |
| Advertising: | Social media, posters, flyers, direct mail, press releases, media ads, website, all communications |
| Equipment/Supplies: | Signage, cash boxes, credit card machines, and a rubber stamp for attendance |
| Partners: | Area businesses and associations, individuals, banquet halls, country clubs, community centers |
| Volunteers Needed: | Extensive committees to organize the event, solicit business and association participation, design of tree display, running the event, crowd and traffic management |

How It Works:
This is a beautiful week-long event, with 100's of decorated Christmas trees to view as you ramble through a beautiful mansion or a large exclusive country club. And where did these beautiful trees come from? They are the work of area employees and businesses, as well as associations like Kiwanis, Rotary, and NAWBO. Even church organizations will want to participate. A contest for the People's Choice award is judged by all of the visitors to the Festival.
You will be charging an attendance fee, perhaps in the $10-$20+ range for adults, with children and seniors at special rates or free. As the attendees wander through the decorated trees, they place a check mark for their top 3-5 picks on a prepared voting ballot. Ballots are collected as people exit, and are tabulated for the People's Choice award. Other prize categories are determined by a panel of judges, and can include a variety of categories, such as: Best Children's Theme, Best Theme, Best in Show, and Most Creative. Create beautiful plaques for each award.
All of the trees will be for sale by Silent Auction (refer to that fundraiser in this book), with the price of the tree treated as a donation to your non-profit. The silent auction format stays all through the week, and you'll find that some people will come back several times to check on the status of their bids. If all of the trees are not sold, the unsold ones can be donated to area hospitals, nursing homes, hospices, soldier's homes, libraries, or other appropriate recipients.
Getting started is fun and easy.

Basically local businesses will purchase a tree (or you'll give them one) and then they'll ask their employees to establish a decorating committee to decorate it.

You might want to consider some controls so that you don't have a wide variety of heights and types of trees.

Their decorated tree will stand in the lobby area of the business until it's time to bring it over to the Festival, and will be a constant reminder of your event.

The tree is then 'un-decorated,' brought to the Festival's facility at a specified time, and then re-decorated.



Ideas to Consider:
You might want to see if you can get an overall Festival sponsor, who will pay for the facility you're using, as well as purchase the trees. That sponsorship should include appropriate signage for honoring them, as well as great visibility in your event brochure. Each company that enters a tree should also see their businesses honored in the event brochure, in addition to a nice sign in front of their decorated tree. Give each participating business a few complimentary passes.
Consider a nice area to serve hot cocoa, coffee, and tea, along with some holiday snacks that you'll make available for purchase. If there is a nice area to sit and relax, that will add to the event's ambiance, as well as give people time to sit and ponder a silent auction bid.
Source of Idea:
One of the earliest examples is the "Festivals of Trees," held at the Calvin Rampton Salt Palace Convention Center, from 1970 until 2000, at Sandy, Utah's South Towne Exposition Center.