Video Courtesy of M242 Campus Ministries and eScrip

Our Sponsors for This Page:
To Order
The Almanac of Fundraising Ideas
eBook:
Gift Certificates are available when you check out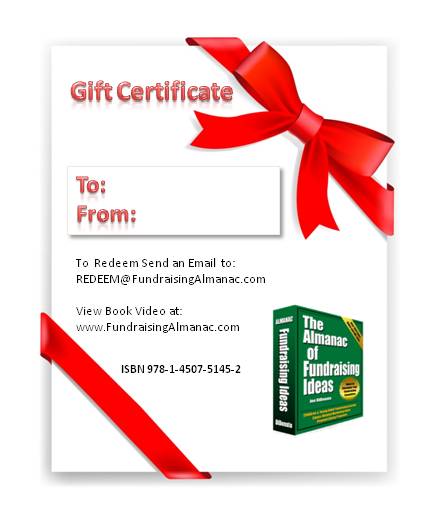 eScrip

| | |
| --- | --- |
| Potential Revenues: | $$ |
| Revenue Source: | <1% to 10% of merchant sales made to supporters |
| Advertising: | Social media, eNewsletter articles, news articles on your site, internet discussion boards, press releases to local newspapers and radio stations, blogs, your non-profit's homepage, all communications |
| Equipment/Supplies: | None |
| Partners: | www.eScrip.com |
| Volunteers Needed: | Supporters |

How It Works:
This is a very simple program in which to participate. Electronic Scrip Incorporated (ESI) has signed up merchants and supermarkets around the country to participate in their eScrip program: Safeway, Vons, Sears, eBay, Barnes & Nobel, etc. If you register your organization with eScrip, your group will start receiving a percentage of any purchases made by a registered supporter, if that supporter has chosen your group to receive contributions based on their purchases. Note: Supporters can choose to split their contributions over three groups.
To start receiving money, you and your supporters must register a debit, credit, or grocery loyalty card with eScrip. When that card is used to make a purchase with a participating merchant, that merchant makes a contribution, through eScrip, to your organization.
Some of the participating merchants pay less than 1%, while others pay as much as 10% on purchases made. The payments are automatic when the registered cards are used. You and your supporters can also see reports of the purchases made online, so it's easy to track progress and gauge if you need to recruit more supporters.
This program is based on supporter purchases through participating merchants, which in turn is based on the number of people that you have signed up to support your group. The dollars that ESI publishes as potential contributions are as follows (Note: ESI's projections are based on an average contribution of 5%, and are before ESI takes their 15% commission fee):
| | | |
| --- | --- | --- |
| Number of Supporters | Average Amount Spent Monthly | Total Contribution Per Year |
| | | |
| 50 | $400 | $12,000 |
| 100 | $400 | $24,000 |
| 200 | $400 | $48,000 |
| 400 | $400 | $120,000 |
Ideas to Consider:
Analyze the merchants that ESI lists. It will probably take a supermarket for your group to achieve the above monthly spend amounts on a reliable and recurring basis.
Consider asking a supermarket if you can set up a "sign-up" table near their entry doors, so that you can enlist new supporters. As a grocery loyalty card works in eScrip, you could suggest that you would also help to sign-up new loyalty card members. That offer is sort of self-serving, as getting loyalty card numbers will be easier than trying to get a complete stranger to give you their debit or credit card information. However, provide a handout that shows shoppers how to register their debit and credit cards online.
For best results, consider combining this program with a specific drive, like a new building, a needed repair, or a school band program. That association creates a "call to action," and lets people see why their help is needed.
Source of Idea:
www.

eScrip.com
is a concept developed by Electronic Scrip Incorporated.

All information comes from their website.