Video Courtesy of University of Nagasaki, Siebold Charity Flea Market - Raising Money for Myanmar and China

Our Sponsors for This Page:
To Order
The Almanac of Fundraising Ideas
eBook:
Gift Certificates are available when you check out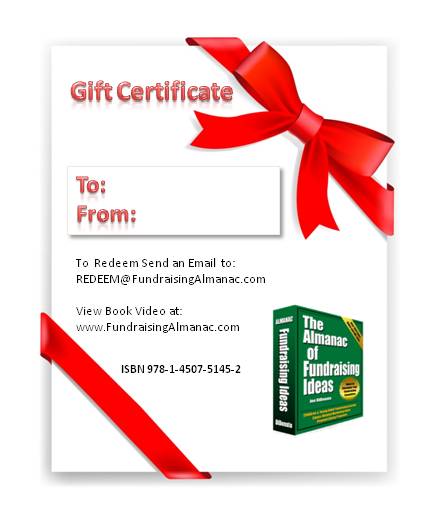 Flea Market Fundraiser

| | |
| --- | --- |
| Potential Revenues: | $$$$ |
| Revenue Source: | Table fees, banners, attendance fees, and sales of your own products |
| Advertising: | Social media, posters, flyers, direct mail, press releases, media ads, website, all communications |
| Equipment/Supplies: | Banners, tickets, tables |
| Partners: | Schools, churches, parking lot owners, fair grounds |
| Volunteers Needed: | Ticket takers, crowd and traffic control, set-up people |
How It Works:
Everyone likes to find bargains, and a Flea Market is one of the best places for people to shop. A flea market (also known as a swap meet) is an event where inexpensive or secondhand goods are sold or bartered. To run a Flea Market, you simply round up as many vendors, area stores, food merchants, artists, craft makers, and even private families who acquire items from garage sales. Flea Markets are run just about everywhere, from a school yard to a church basement, a warehouse, or a private or school gymnasium. Some of the biggest venues use sport stadiums.
Advertising is the principle driver, so leave flyers where potential patrons look for bargains.

This is also a great press release for news media, so use TV, radio and newspapers to get the word out. The main jobs for your committee are finding willing vendors, promoting the event, providing signage and advertising, and arranging for volunteers to manage the event when it takes place.
Ideas to Consider:
Consider charging a fee for each vendor space, attendance, and if you are working with a fenced-in school yard or field, sell banners to local vendors who want to advertise with you. Most will have banners already, or you can use a local office supply house or an area printer to make them up from the retailer's artwork.
A good place to find vendors is at other flea markets, farmer's markets, art and craft shows, local stores, area restaurants, food vendors that show up at your business during lunch hours, and so forth. You might want to check with your Kiwanis Club to see if they'd put on one of their famous barbeques, or maybe you want to staff your own booths and fill it with your own goods that you've collected in previous events. You can find a lot of bargains at dollar stores. Even better are suppliers to dollar stores, such as Concord Enterprises at www.dollaritem.com, or through Dollar Store Suppliers at www.DollarStoreSuppliers.com.
You definitely want to consider unique names that differentiate you from flea markets, farmer's markets, art and craft shows, and similar venues. In fact, you can combine all of the above and call it something unique to the time of the year or to your charity, such as Oktoberfest Flea Market or Independence Day Flea Market. In that way, people will look forward to it on a yearly basis, and know exactly when it will occur.
Consider other fundraiser activities during this event, such as a grand prize drawing, a silent auction area to sell donated items, a petting zoo for the children, caricature artists, balloon artists, face painting artists, demonstrations, musical performances, food vendors, and even pony rides. All of these will help you grow your event and keep the crowds from leaving. Providing entertainment activities, like the list above, help to keep people's interest, and are a great reason for charging an admission fee.

Source of Idea:
The National Flea Market Association, Inc. (NFMA) was founded in 1998 in Charlotte, North Carolina by Jerry Stokes.

Fundraisers have been adapted from this original concept.