Video Workshop Courtesy of Causecast - (1-hour in length)

Our Sponsors for This Page:
To Order
The Almanac of Fundraising Ideas
eBook:
Gift Certificates are available when you check out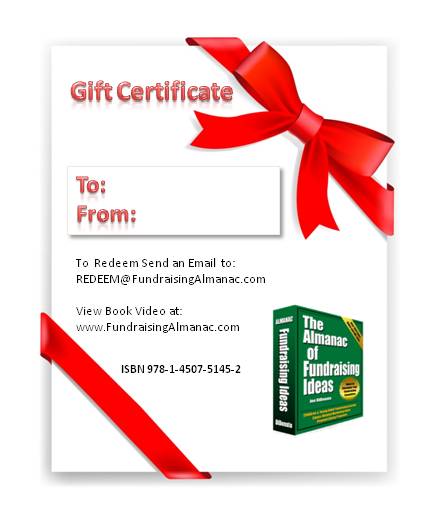 Mobile Fundraising

| | |
| --- | --- |
| Potential Revenues: | $$$$$ |
| Revenue Source: | Text2Give, Text2Pledge donations |
| Advertising: | Social media, posters, flyers, direct mail, press releases, media ads, website, all communications |
| Equipment/Supplies: | Text Donation Service |
| Partners: | |
| Volunteers Needed: | Mobile fundraising project lead |
How It Works:
Thanks to the Mobile Giving Foundation (MGF), founded in 2007, fundraising via mobile phones is now readily available to nonprofit organizations as a new fundraising and donor interaction mechanism. Through MGF, non-profits can leverage mobile phones without complex technology, as well as expand and cultivate a new base of givers and create new donor interaction. Mobile fundraising also represents an entirely new donor base for most non-profits – Gen Y and the Millennium Generation.
MGF sits between your non-profit and a text donation service provider, such as Causecast. As a quick summary, this write-up will focus on two of the mobile fundraising methodologies provided by these services: Text2Give and Text2Pledge.
Text2Give is a very straight-forward way to get $5 or $10 donations using a mobile phone. Text2Give requires a service from one of the providers shown above, and starts with a "call to action" via any number of sources: TV, Twitter, a sports event, a Public Service Announcement (PSA), on the radio, and so forth. The next step is to text a "key word" to a short code like "25542," which will be assigned by your text donation service. Finally, the person will receive a confirmation message to which they will have to respond "Yes." This final step is very important, or the donation will not be processed. The person will be billed for the donated amount on their next telephone bill, and you will receive the donation through your text donation service provider.
Text2Pledge takes off the $5 and $10 limit, and allows any amount to be donated by text to your non-profit.

This is a pledge that will be collected at a later time.

It operates in almost the same way as Text2Give.

The donor sends a text message with a "code word" and a "dollar amount."

The donor then gets a custom thank you message.

Afterwards, an automated system will call the person to confirm and collect the donation by credit card.

If the donor can't be reached in two calls, the collection is turned over to a live person to make the call from the service.
Ideas to Consider:
Text2Broadcast is another service that's usually provided by these services. It allows you to collect a large list of mobile telephone numbers, as well as provides a way to interact with them in a direct, immediate, and personal way. You'll be able send them news, updates, alerts, calls to action, links, petitions, volunteer opportunities and other information about your non-profit. Typical messaging are things like "Vote for us as the No. 1 Non-profit at <URL>," "We're only $1,000 away from our goal," or "Join the fight against Rain Forest Destruction! Reply to this message with your name and email, and we'll add you to our petition list!"
Source of Idea:
Donors Message Service
(DMS) was a mutual project of the Czech Donors Forum and the Association of Cellular Networks Operators launched on April 1, 2004.
The
most successful mobile donating campaign was organized in support of the relief efforts for the 2010 Haiti earthquake. The American Red Cross raised over $32 million dollars within one month after the disaster.