Video Courtesy of L2G Volunteers (http://www.livetogivefoundation.org/)

Our Sponsors for This Page:
To Order
The Almanac of Fundraising Ideas
eBook:
Gift Certificates are available when you check out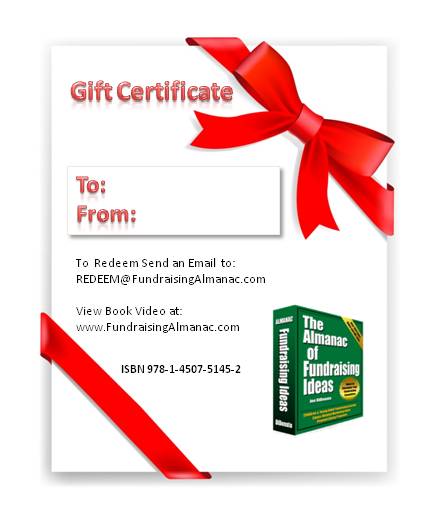 Fifty-Fifty Raffles

| | |
| --- | --- |
| Potential Revenues: | $$$ |
| Revenue Source: | Half the raffle ticket sales |
| Advertising: | Social media, posters, flyers, direct mail, press releases, media ads, website, all communications |
| Equipment/Supplies: | Roll of raffle tickets – two-up; or a printed ticket with your organization's name |
| Partners: | Area retailers interested in selling the tickets |
| Volunteers Needed: | Ticket sellers |
How It Works:
Easy to run, the fifty-fifty raffle really requires only a roll of raffle tickets from your local office supply store. The winner splits the proceeds 50:50 with your organization. These raffles tend to go over big because the prize is generally what everyone wants – money.
If you want the tickets to show your organization's name and maybe a short mission statement, there are several printers that offer these type tickets online. Check to see if your state requires you to have a two-up, sequentially numbered ticket for recordkeeping, and also whether you need to request permission, and later file a raffle report after the event.
Many states, like California, disallow online raffles, so check those factors out if you intend to use the internet to extend your reach. In general, it's usually okay to announce a raffle via the internet, along with a way to reach you to buy the tickets.
If you plan to use local retailers, like gas stations, convenience stores, and similar high-traffic locations to help you with your sales, make sure that they won't be in violation of their state charter for selling lottery tickets. You should ask these types of questions of your State Attorney General's office.
Make sure you have a way of controlling who has received the tickets. Tickets tend to disappear, and in the worst case, used in a fraudulent manner. Having volunteers sign for a block of tickets helps to keep these sorts of problems to a minimum.
On the positive side, there is minimal to no downside to the fifty-fifty raffle.

The first dollar you make over the cost of the raffle ticket roll spells profits.
Ideas to Consider:
Make sure people understand that cash is the intended raffle prize.

Also consider a tiered buying mechanism for selling the tickets like the one shown below:
| | |
| --- | --- |
| 1 Ticket | $ 1 |
| 5 Tickets | $ 4 |
| 10 Tickets | $ 7 |
| 20 Tickets | $10 |
You want the tiers to make it easy for the person to increase the number of tickets he or she might purchase. If you're printing up your tickets, consider putting the tiers right on the tickets if space permits.
And consider adding a fifty-fifty raffle to every event you do. This raffle will help increase your donations significantly.
Make sure you check raffle laws in your state.

If you find this type of raffle is restricted because the prize must be limited to 10% of the proceeds, then consider other sources to pay for the prize difference: another "pot of money" in your organization, such as a loan from your endowment funds, or another 501(c)(3).

Source of Idea:
Unknown.

The 50-50 Raffle is an idea that has been in wide use throughout the United States for many years.