Video Courtesy of University of Nagasaki, Siebold Charity Flea Market - Raising Money for Myanmar and China

Our Sponsors for This Page:
To Order
The Almanac of Fundraising Ideas
eBook:
Gift Certificates are available when you check out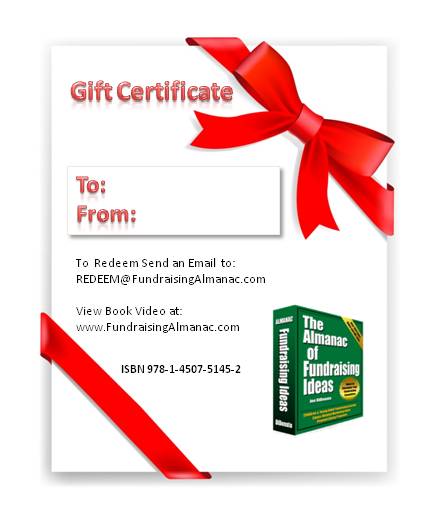 Holiday Gift Wrapping

| | |
| --- | --- |
| Potential Revenues: | $$$ |
| Revenue Source: | Donations for wrapping |
| Advertising: | Social media, posters, flyers, direct mail, press releases, media ads, all communications |
| Equipment/Supplies: | Banners/signage, gift wrapping paper, bows, scotch tape, scissors, tables, tables, a donation box, and other supplies if not provided by the bookstores or mall |
| Partners: | Bookstores, shopping malls, wrapping paper sponsor |
| Volunteers Needed: | Gift wrapping volunteers |
How It Works:
Depending on how many of these gift wrapping locations you decide to staff during the holiday season, these events can produce a lot of revenue for your organization. People love to tip - and tip big - during the holiday season.
One of the most successful locations for a holiday gift wrapping service is at a major bookstore. One of the largest of the bookstore chains provides the gift wrapping paper and other wrapping supplies for free, while the other large bookstore chain has a donation matching program. If your organization is spread out around the country, then you expect this to be a very large opportunity for generating donations. Even in a single location, several days work around the holidays can produce $500 or more.
Don't underestimate the number of volunteers that you'll need. For a 3-4 hour block of time, it usually takes 2 people to manage the wrapping in a bookstore. More may be required in a mall setting. You'll want to have a rather large donation box on the table, along with some change in dollar bills in it for people to understand that they're expected to donate for your group's work effort to wrap the gifts. However, you'll also get people who will walk up and ask you for the paper for free.
Make sure that you have an assortment of holiday wrapping paper so that you have a variety for different tastes and religious persuasions.

And lastly, expect that you'll need to sign an agreement with the store to be able to do the gift wrapping there, and they will try to get 2-3 different organizations scheduled each day.

Sign up early.

Slots disappear quickly.
Ideas to Consider:
Think big! Imagine a countrywide effort, with maybe 2,000 bookstores involved, and then do the math. There are several organizations that might help you in your efforts, such as the Kiwanis, Rotary and RSVP (Retired Seniors Volunteer Program). To find a Kiwanis club in your area(s) of operation, go to www.kiwanis.org. Rotary clubs can be found at www.rotary.org. And the main website for the RSVP Senior Corp is www.seniorcorps.gov/about/programs/rsvp.asp.
You might want to consider having some organizational flyers on hand. Including a request for volunteers and donations, and provide a contact telephone number.
Some organizations still hand out the ubiquitous wrist bands to everyone, or the blinking lights that can be attached to clothing. Just be mindful about costs, so that you don't give all of the donation profits away with the handouts you pick.
Source of Idea: Unknown. The concept is believed to have originated in a bookstore, where it then evolved to a fundraiser when an enterprising charity asked to do the wrapping in exchange for donations.