Video Courtesy of Seminole County Democrats Casino Night

Our Sponsors for This Page:
To Order
The Almanac of Fundraising Ideas
eBook:
Gift Certificates are available when you check out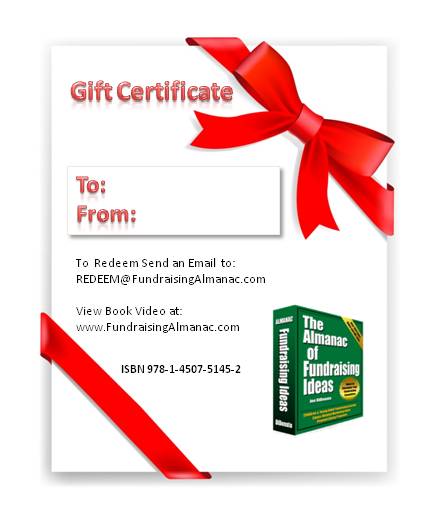 Casino Night

| | |
| --- | --- |
| Potential Revenues: | $$$$ |
| Revenue Source: | Attendance fees, silent and live auctions, raffles |
| Advertising: | Social media, press releases to local newspapers and TV/radio stations, website, signature, all communications |
| Equipment/Supplies: | Event planning at facility or hotel will be a primary supplier, gambling table rentals, tables for auction items, audio system |
| Partners: | Area hotels, businesses, restaurants, corporations, event brochure printer |
| Volunteers Needed: | Extensive committee structure to handle all aspects of the event |

How It Works:
Casino Nights are usually very well attended and provide a great excuse to get dressed up. Casino Nights offer dozens of ways to raise funds for non-profits, including silent auctions, live auctions, raffles, poker tournaments, individual sponsorships, corporate sponsorships, cash bars, gourmet catered dinners, and of course attendance ticket sales.
The good news is that nationwide suppliers exist that can rent you all of the equipment you need – including the dealers! In speaking with one of these nationwide companies, www.Casino-Equipment-Rental.com, they estimated that outfitting an event for 400 attendees for a 6-hour block of time – including dealers – would cost around $7,000.
Although that sounds like a big chunk of money, you should consider that 400 people paying $100 each is $40,000. Add to this the funds from the other activities above, and you are probably creating a $50,000 to $75,000 event, depending on your live and silent auctions, raffles, sponsorships, cash bars, and everything else you add to the evening.
Another big part of your budget is going to be for food and beverages.

With gambling going on, it might be worth considering a buffet-style venue.

You'll have to provide some refreshments for free, but you should definitely use a cash bar and hostesses to deliver drinks (and sell more raffle tickets).

As dinners and bar charges are often packaged with the cost of a banquet room, check those arrangements first.
Ideas to Consider:
Some vendors might even want to sponsor a gift for every attendee as a way to show their appreciation, as well as to get their company's name in front of this elite gathering. Think big and you will probably get it sponsored at this type of event. An interesting commemorative gift for this type of event might be custom-designed dice. Google "custom dice" to get an idea of cost and then decide what to put on the six faces.
You might want to schedule a live auction break at some key point in the evening to draw a lot of high bids from the audience. Think "outside the box" on these types of events, so that you can truly have impressive items to auction. Tangible items like a trip to Monte Carlo, as well as intangible items like a celebrity date are the types of gifts to try for.
You can also notify silent auction winners throughout the evening, but you'll need an audio system to get over the noise. Alternatively, you can have a "winner's board" for the silent auctions and announce where people can check to see if they've won. Consider selling more chips for an additional donation near the "winner's board."
In addition to overall event sponsors, consider selling casino table sponsorships. In fact, the overall event sponsorship might be for $10,000, which covers all of the gambling tables and then some. For that Las Vegas effect, invite local celebrities, politicians, and society's elite to the event. Maybe NBA/NFL cheerleaders can be hostesses.
Source of Idea:
Unknown - probably as old as gambling itself.