Video Courtesy of Kim Kardashian eBay Giving Works Auction

Our Sponsors for This Page:
To Order
The Almanac of Fundraising Ideas
eBook:
Gift Certificates are available when you check out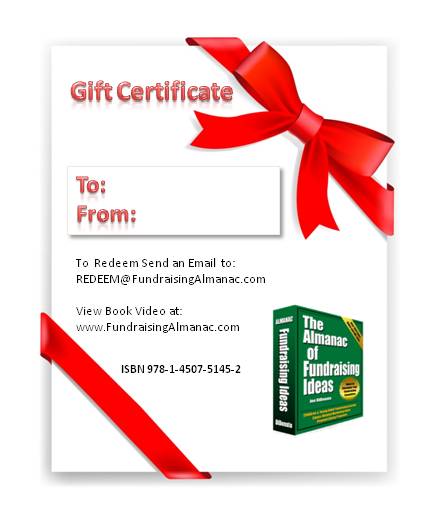 MissionFish/eBay Giving Works

| | |
| --- | --- |
| Potential Revenues: | $$$$ |
| Revenue Source: | Items sold directly by you, and from community members who sell on eBay that name your charity as a beneficiary (from 10% to 100% of the item's value) |
| Advertising: | eBay and MissionFish resources, social media, eNewsletter articles, news articles on your site, press releases to local newspapers and radio stations, blogs, your non-profit's homepage, in your email signature, all communications |
| Equipment/Supplies: | None |
| Partners: | eBay, MissionFish, eBay Sellers |
| Volunteers Needed: | Some minor work to sign you up and set up your eBay/MissionFish account: www.MissionFish.org |
How It Works:
MissionFish helps non-profits benefit from the selling that goes on at eBay, as well as directly, from sales made by your non-profit. eBay sellers can list items on eBay and donate 10-100% of their proceeds to your non-profit. MissionFish collects the donations and forwards them to your non-profit less a small transaction fee. eBay will credit the 'Insertion' and "Final Value Fees" back to the seller, equal to the percentage of the final sale price that the seller agreed to donate.
Non-profits can also become eBay sellers listing items on their own behalf. Your non-profit collects the final bid directly from the buyer and then ships the item. eBay will credit the 'Insertion' and "Final Value Fees" back to your non-profit's eBay account, for items that sell, making the transaction essentially free of charge, except for a small fee charged by MissionFish.
Non-profits can register for free and they will appear in the non-profit directory. Any tax-deductible organization can join, subject to being screened and certified by MissionFish. MissionFish then creates a homepage for each non-profit that includes your mission statement, a link to your website, and a view of all listings selling on eBay that benefit your organization.
eBay sellers actually benefit from their association with your non-profit. Some of the points made by MissionFish are that items usually sell with 40% higher prices, and attract 20% the number of bids.
Once you look into the program deeper, you'll find that eBay Giving Works/MissionFish gives you free opportunities to promote an online auction event.

With eBay crediting back the fees, this means that you are essentially operating an eBay store, free of charge. The fee to MissionFish is essentially covering the credit card fees.
Ideas to Consider:
This is a great way to sell off some of those donated gifts that didn't move at your last event. The most popular charity categories are Art, Clothing, Shoes & Accessories, and Collectibles. You can expand this idea by getting a staff member of volunteer to run and operate a service for people who want to sell items on eBay, and donate money to your cause, but don't know the inner workings. All you have to do is create an eBay account for them, take the photos, write the copy, and ask them to donation a portion of the sale for your services, through MissionFish.
Source of Idea:
MissionFish and eBay Giving Works are programs advertised on the eBay website and by www.MissionFish.org.