Video Courtesy of Ms. Cheap's Penny Drive Benefiting Second Harvest Food Bank of Tennessee

Our Sponsors for This Page:
To Order
The Almanac of Fundraising Ideas
eBook:
Gift Certificates are available when you check out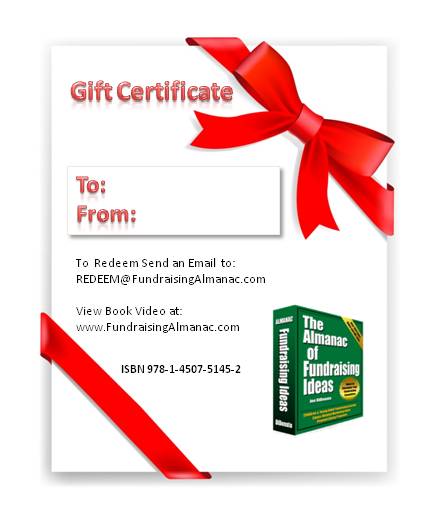 Door-to-Door Penny Drive

Potential Revenues:

$$$

Revenue Source:

Donations


Advertising:

None

Equipment/Supplies:

Donation cans/containers with your organization's name, source:
www.PlasticsPlus.Net

www.Displays2Go.com,

logo shirts for workers (optional), receipts

Partners:

None, unless you want a donation can sponsor

Volunteers Needed:

Door-To-Door workers, people to count and wrap the coins

How It Works:
Most of us have a penny jar at home which we use to collect pounds of pennies and other assorted coins. These collections tend to get quite large because we never seem to have the time to get the coins rolled up and brought to the bank. And then there's the counting…
The objective of this door-to-door drive is to ask for all or part of those coin collections for your non-profit organization. Naming the event a "Penny Drive" will make people more receptive to being asked for a donation. Everyone can come up with a few pennies, even when they give through work or to other non-profits. It's very hard to say 'no' to such a modest request.
As this is a proactive version of getting donations, you can expect that your collections will be larger for this one-time event, then what you would experience with passive donation boxes. However, it will be difficult to do this more than once a year.
It will be important to prepare your door-to-door workers for the fact that some people will refuse to give a donation.

After a few houses, your volunteers will begin to see a pattern. Half of the homeowners, if not more, will make the effort to find some change to give to your cause.
Ideas to Consider:
One concern that homeowners generally have is the legitimacy of your organization. One of the better ways of getting pass this concern is to provide your door-to-door workers with a logo piece of clothing to wear, as well as any documents that will help them satisfy this concern. You should also have your volunteers work in teams of two for safety.
You might want to consider combining this activity with the fifty-fifty raffle shown later in this book. People always like a raffle, especially if the prize is in cash.
One of the harder tasks in collecting coins is the task of counting them. While there are coin counters on the market, they tend to be slow and ineffective. More and more banks and credit unions are starting to offer free coin counters as a service. TD Bank, which runs up and down the east coast, is one such bank. On the west coast, there are credit unions like WESCOM that offer the free coin counting service.
If you cannot locate a free coin counting machine, there are coin machines that can be used in some of the supermarket chains. These machines charge a percentage of the money counted, which is how the owners of those machines can afford to put them there.
And lastly, most major banks have coin bags that can be used for the money collected.

These are much easier than trying to wrap the coins individually.

Talk to the bank first, and you may find that you can simply fill the bags and they'll do the counting for you, using their coin counting service provider.
Source of Idea:
Unknown.

Suggested by Winnie Natale of Springfield, MA to the author, and also by Randall W. on www.Fundraising-ideas.org.