Video Courtesy of Taylor Merrick

Our Sponsors for This Page:
To Order
The Almanac of Fundraising Ideas
eBook:
Gift Certificates are available when you check out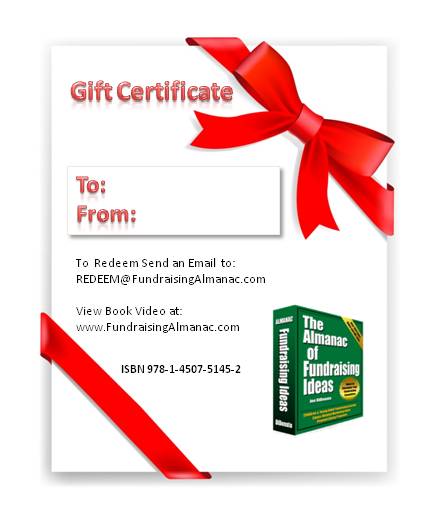 Facebook Community Fan Page

| | |
| --- | --- |
| Potential Revenues: | $$$ |
| Revenue Source: | Contributions via Cause.org or PayPal (See Inserting Paypal Donate Now button on Facebook) |
| Advertising: | Social media, eNewsletter articles, news articles on your site, internet discussion boards, press releases to local newspapers and radio stations, blogs, your non-profit's homepage, all communications |
| Equipment/Supplies: | None |
| Partners: | www.Facebook.com |
| Volunteers Needed: | Facebook Project Manager, Supporters |

How It Works:
A Community Page helps you generate support for your non-profit on one of the most popular social media sites around - Facebook. Even more attractive, if it becomes very popular (attracting thousands of fans), it will be adopted and maintained by the Facebook community.
Starting is as simple as clicking www.Facebook.com/pages/create.php. You will be taken immediately to the set-up page with this shortcut. Watch the video for more instructions, and decide on creating a Community Page, as well as augmenting it with a Fan page.
Community pages are pages that link from fields that you fill out in your profile. They are designed for general topics, as well as for all kinds of unofficial but interesting subjects. In turn, people "like" these pages and connect with them. This type of page is run by multiple authors (versus a Fan page), and they don't generate News Feed stories.
There are many benefits to adding community pages about your non-profit or cause to your profile:
They let you see what people are saying about your non-profit or cause, as well as issues that matter to you.

They let your friends learn more about groups you support by simply clicking on your interests.

Some topics feature content from Wikipedia to help you learn more about things you find interesting.
They turn your profile into a living map of all the connections that matter to you, instead of a static list of your interests.



Ideas to Consider:
There are two avenues that can help you take donations right from Facebook.

One is by setting up a cause on Facebook.

To do that, go to the shortcut: http://apps.facebook.com/causes/causes/new and start one. See video #2 at left from www.CanadaHelps.org.


Alternatively, go to Paypal Donate Button in this book and follow the video to place a PayPal button right on your Community of Fan page.

This is done using FBML, Facebook's integration of HTML code in their site.