Our Sponsors for This Page:
To Order
The Almanac of Fundraising Ideas
eBook:
Gift Certificates are available when you check out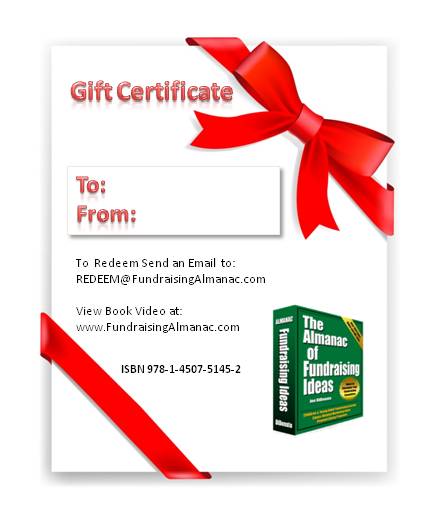 Google AdSense

Potential Revenues:

$ - $$$$$ (Traffic Dependent)


Revenue Source:

"Click revenue" which is earned when people click on links that Google places on your website

Advertising:

None

Equipment/Supplies:

None

Partners:

Google and their network of advertisers

Volunteers Needed:

Your webmaster

www.Google.com/AdSense
How It Works:
Google uses its Internet search technology to place advertisements on your website based on your content, the user's geographical location, and other factors. This is free for you to utilize, and we are utilizing it on this website. Google currently shares 68% of revenues generated by AdSense with its content network partners – people like us. The source of all AdSense income is the AdWords program, where advertisers bid for ad placements using a fairly complex sealed bid format – which fortunately, you don't have to deal with to participate. Simply go to www.Google.com/AdSense and follow the enrollment process.
AdSense has become a popular method of placing advertising on a website because the advertisements are less intrusive than most banners, and the content of the advertisements is often relevant to the website. AdSense has been particularly important for delivering advertising revenue to small organizations that do not have the resources for developing advertising sales programs and sales people. To fill a website with advertisements that are relevant to the topics discussed, your webmaster implements a brief script on your website's pages. Websites that are content-rich have been very successful with this advertising program, as noted in a number of publisher case studies on the AdSense website.
Some additional opportunities with Google also become available when you sign up for AdSense. Another source of revenue is through Google's search facility. When you allow your users to search your site or the web, you will earn from ads that appear on the search results pages. If you have mobile web pages, AdSense can also place ads on a mobile device, such as an iPhone or Android. There is also a facility for displaying ads when people sign up for RSS (really simple syndication) feeds that you make available on your website or blog, to keep people informed of changes.
Google also runs an affiliate network through its recent acquisition, DoubleClick.

This works much like other affiliate programs. When an ad is clicked on your site, the advertiser pays a fee, only if items are purchased.
Ideas to Consider:
If you have a talented web team, you might want to consider investing some effort into maximizing your own AdSense income. This is done by using a wide range of traffic-generating techniques, including online advertising and social media sites like Twitter and Facebook, to push people to your site. Another way is to build valuable content on your website that attracts AdSense advertisements that pay out the most when they are clicked.
Also you want to start thinking about using text content on your website that encourages visitors to click on advertisements. Note that Google prohibits using phrases like "Click on my AdSense ads" to increase click rates. Read the rules carefully, as Google is unforgiving if you violate them.

Source of Idea:
Google AdSense was developed by Google, the search engine company.