Video Courtesy of Marin Farmers Market in San Rafael, CA

Our Sponsors for This Page:
To Order
The Almanac of Fundraising Ideas
eBook:
Gift Certificates are available when you check out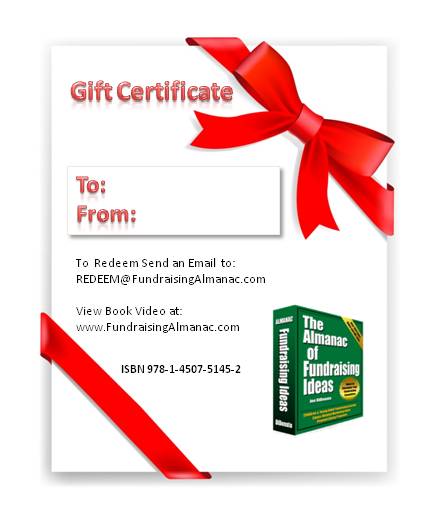 Farmers' Market

| | |
| --- | --- |
| Potential Revenues: | $$$ |
| Revenue Source: | Sales of vendor spots, percentage of sales, your own sales |
| Advertising: | Social media, posters, flyers, direct mail, press releases, media ads, website, all communications |
| Equipment/Supplies: | Parking lot, pop-up tent, traffic control signs, signage with your organization's name |
| Partners: | Parking lot owner |
| Volunteers Needed: | Signing up vendors, minding your own booth, traffic control |

How It Works:
Farmers' market produce is renowned for being locally grown and very fresh. While the usual emphasis is on locally-grown/produced food and crafts, some farmers' markets allow co-ops and resellers, or allow farmers to purchase some products to resell. What you need to begin is a place to conduct the farmers' market, such as a school or church parking lot, or if there's a local mall that sees this as a traffic generator, perhaps they'll allow you space in their parking lot.
Money is made for your organization in a couple of ways: First, vendor spaces run from $12-$35 per week, usually dependent upon the city and the location. The more prime the location from a visibility standpoint, the more you can charge. Second, all vendors usually expect to pay a one-time administration fee in the range of $8-$20. If you plan to operate the market for a longer period of time, you might want to consider monthly and season charges that are lower, but "lock in" your vendors. If you can lock in 100 vendors, you'll have a good presence as well as a steady weekly revenue stream.
Hours of operation are usually from 7:00 AM to Noon, but there are some successful farmers' markets that operate in the late afternoon hours. Any day of the week can work, but obviously a Saturday morning is when you can count on the most traffic showing up. You should also consider when competing Farmers' Markets are running.
Running the market is usually handed over to a Market Manager, who is empowered to make all of the decisions.

The Market Manager usually assigns spaces, decides which vendors participate, resolves disputes, handles customer complaints, solicits new vendors, collects fees, controls traffic, and any other activities required.

Potential vendors can be found through advertisements and announcements, and visiting other farmers' markets.
Ideas to Consider:
Another way to make money from this event is to operate your own booth. In that way you take advantage of the traffic the market generates. You can sell products from your organization, ask for donations, run raffles, or sell donated items. Even a silent auction is possible. Just remember to collect enough information to contact the person and collect their bid. Refer to Silent Auctions, Fifty-Fifty Raffles and Chinese Raffles for how to run these events.
Lastly, you might want to consider an inside location for the market if you're in a particular part of the country where weather is a problem. You'll have to make up for the lack of visibility of the vendor stands, with signage and advertising. But this keeps your income stream constant from this venue.
The Farmers' Market is generally controlled by many laws at the local and state level.

Get legal advice.

Generally, you need to ensure that each vendor has the appropriate reseller license, commercial kitchen license if serving food, food handler permits, food vendor permits, and similar requirements.
Source of Idea:
According to www.Wikipedia.org there are over 5,274 Farmers' Markets in 2009, and the trend is on the rise.

Although the origins are unknown, it was thought to be of European origin.