Video Courtesy of Ivan Amodei (http://www.ivanamodei.com/)

Our Sponsors for This Page:
To Order
The Almanac of Fundraising Ideas
eBook:
Gift Certificates are available when you check out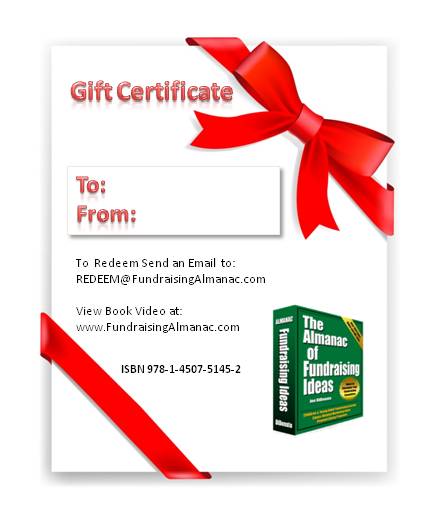 House of Magic

| | |
| --- | --- |
| Potential Revenues: | $$$$ |
| Revenue Source: | Attendance fees, food and alcohol sales, coat check fees, silent and live auctions |
| Advertising: | Social media, posters, flyers, direct mail, press releases, media ads, website, all communications |
| Equipment/Supplies: | Banners/signage, coat room and tables, a cash box, admission tickets, flyers on your organization |
| Partners: | Area businesses, magicians, www.IvanAmodei.com, facility partner |
| Volunteers Needed: | Extensive committee planning, event chair, crowd and traffic control, gift shop/auction helpers, set-up and logistic help |
How It Works:
This is an elaborate and very different kind of fundraiser. It was inspired by the Magic Castle in Hollywood California, "the world's most famous club for magicians and magic enthusiasts."
This fundraiser would ideally take place at night, in an old historical facility - the older and more mystical, the better. Lighting is kept on the dim side, and the environment reflects the illusion of magic throughout the facility. Many small performance rooms will be needed, and if you can come up with stadium style seating for some of the performances, it will help with viewing (seats on platforms work just as well). An auditorium and a stage can also add positively to the magicians' performances. Some facility suggestions include: old mansions, country clubs, empty manufacturing plants and warehouses, restaurants with many private rooms, old theaters, schools, wineries and museums.
Each magician is carefully auditioned for the event, and will probably be anxious to have an audience in front of so many people. Each magician will be assigned to a room for their show, and chairs will be placed around the magic act. Each magician is expected to do multiple performances to accommodate the audiences.
As guests arrive, they are handed a schedule of performances, and shown or told where the food, drinks and silent auctions are located. Allow guests to pick their own viewing venue by moving from room to room at their pace. Interspersed throughout the facility are drinks, food, and silent auction opportunities. Performances are carefully scheduled by your event coordinators, and when the magicians are not performing they should be mingling with, and entertaining the crowds.
An evening of entertainment like could be priced in the $75 to $150 per person range. Consider running it over several nights.

Price mixed drinks as "pay-as-you-go," but give out free beer, wine, soda, and snacks.

Seek out sponsors to provide these items.
Ideas to Consider:
Consider including a coat check and a valet parking service for additional donation revenue. Suggest a donation amount and refer to Charity Valet Parking and Coat Check for more detailed instructions.
Raffles are always easy to include, and perhaps the prizes can be related to magic, such as admission to an area magic club. A higher-priced raffle might be for a trip to Hollywood to visit the Magic Castle.
Private magic performances can be a very unique silent auction gift. A performance like this would be great for a birthday party, an anniversary, or a similar type of event.
Consider giving out packaged magic gifts like the "3-card Monty" which is available from many suppliers like GameParts.net. Suppliers usually provide a custom trick card as part of the packaged set. The custom card can be printed with your group's name, a statement of your cause's mission, and your website for future donations.
Source of Idea: Magic performances are as old as time. This particular fundraiser was inspired by the wonderful and mystical Magic Castle in Hollywood, CA.