Video Courtesy of Siena College Naming Opportunities

Our Sponsors for This Page:
To Order
The Almanac of Fundraising Ideas
eBook:
Gift Certificates are available when you check out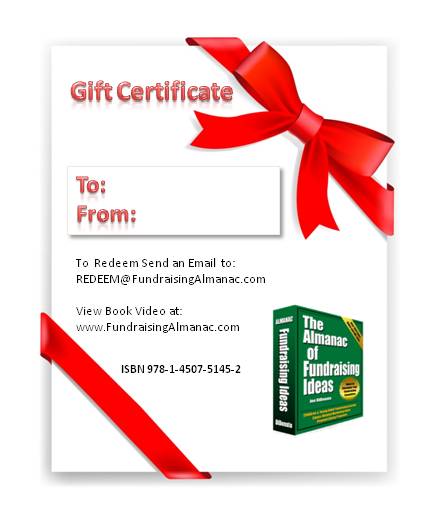 Naming Opportunities

| | |
| --- | --- |
| Potential Revenues: | $$$$$ |
| Revenue Source: | Donor name plates and other |
| Advertising: | Social media, posters, flyers, direct mail, press releases, website, media ads, all communications |
| Equipment/Supplies: | Varies with naming opportunity from nothing (publications) to engraved plaques |
| Partners: | Printers, engravers, area businesses, cause supporters |
| Volunteers Needed: | Organizing the program, sales and marketing, and program implementation |
How It Works:
This is a highly-leveraged way to raise money if you control property, theatres, publications, websites, gardens, buildings, or similar concepts that would allow named endorsements. The concept is to allow a company, family, or individual to provide a donation in exchange for seeing their name on items like theater seats, paver bricks, special days of the year, or even rooms, walls, benches, and buildings. This idea can be expanded to include the sponsorship of publications, a page within a publication, websites, and even parking signage. The basic idea is to accept a donation in exchange for the naming opportunity.
As an example, community theaters might consider selling an endorsement on a theater seat for $1,000. If you have a 500-seat theater, the donations will total $500,000.
If you plan to build a memorial wall or something more elaborate, like a memorial garden, every inch of the wall can be sold, along with benches, gazebos, paving stones (pavers), and whatever else you can put a donor's name on.
In the world of print and the internet, other naming opportunities exist. Consider the publication of a high-end picture book that might help you raise additional dollars. Sell a newsletter sponsorship. Sponsor a website page or even an electronic newsletter.
Once you put your collective fundraising committee hats on, you will amaze yourself on how many opportunities abound. In one office, I even spotted a "donated by" sign on a copier.
Ideas to Consider:
Be realistic in your plans. Big projects demand a lot of time and resources to make them successful. As simple as the theatre seat naming project may seem, it requires a large sales and marketing effort, engraving of the "donated by" plates, and the physical installation. Move to an idea like a memorial wall or garden, and now you have contractors and other costs to contend with.
The best advice is to solicit partners that can help you "get the word out," as well as help you implement them. If you're going to build a memorial wall, perhaps you should solicit an area contractor onto your board or team.
There are also many civic-minded organizations that will help you if you look around: Kiwanis, Rotary Clubs, and even city or state commissions can offer you help. Perhaps if the famous "Freedom Trail" that lets you tour the city of Boston on foot was redone in this manner, each brick of the trail could be a source of a donation.
Source of Idea: Unknown. This idea is believed to have originated in England to support local theatre groups.