Video Courtesy of Expert Village

Our Sponsors for This Page:
To Order
The Almanac of Fundraising Ideas
eBook:
Gift Certificates are available when you check out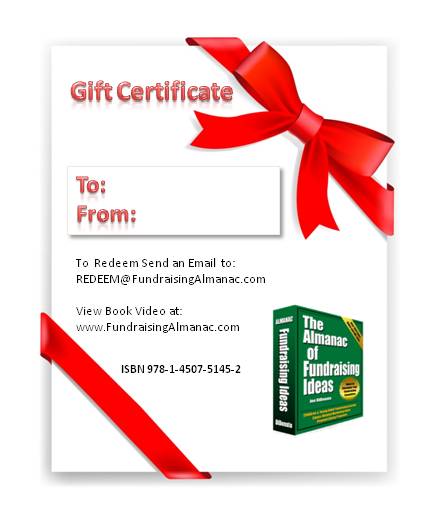 Selling Donated Books Online

| | |
| --- | --- |
| Potential Revenues: | $$$$$ |
| Revenue Source: | Sale of donated books and related items |
| Advertising: | Social media, posters, flyers, direct mail, press releases, media ads, website, all communications |
| Equipment/Supplies: | Storage racks, inventory control system |
| Partners: | www.Amazon.com; www.Half.com; www.MissionFish.com (see info in this website) |
| Volunteers Needed: | People to sort, shelve and help sell the books |

How It Works:
There are many entrepreneurs who are busy selling used books and textbooks online. They are sold in places like www.Amazon.com, eBay's www.Half.com, www.Biblio.com, www.Alibris.com, and www.AbeBooks.com. Some entrepreneurs earn a mid-to-high 5 figure income, or more, each year running these businesses from their homes. Some others tout multi-year sales that have cumulated to well over a million dollars.
Imagine the enormous advantage you have over these entrepreneurs when the books you're selling are donated. All of the downside risk is pretty much gone. And while your competitors are spending countless hours scavenging through www.BookSaleFinder.com, library sales, thrift shops, estate sales, used bookstores, remainder distributors, Treasury and Post Office auctions, book fairs, bargain tables, classified ads, garage sales, and everywhere else used books can be found, you get them brought to you by the armful. And people feel good about doing it. Beyond the obvious tax-deduction, people are eager to help you raise funds that allow you to accomplish your organization's mission.
So now the remaining work begins. With all of the scavenging for books essentially gone, selling your books online remains pretty much a matter of grading and pricing the books that have been donated to you; performing prompt shipments; organizing inventory; establishing shipping costs; and tracking the filled orders.
You will also want to establish the requisite state and local reseller accounts so that you can collect sales taxes.

Create record systems, and even consider professional inventory control systems once this fundraising idea takes hold.
Ideas to Consider:
Although you already have a strong advantage selling donated used books online, you might want to consider combining this fundraising vehicle with the "Dollar Bookstore" mentioned elsewhere in this book. The two venues combined can potentially produce the same revenue streams that billion dollar organizations like Goodwill and the Salvation Army have enjoyed from their thrift store operations. The only limit is what you set for your organization.
You might even find that your expertise in selling online, leads you to other opportunities. Your competitive advantage is your use of MissionFish (for free) to sell your books, and the fact that you are selling books that you never had to pay for in the first place. Can life be any better than that?
Set a one, three and five year goal for your operation, and start moving forward. Who knows, maybe your team will be the one with 2,000 dollar bookstores, supported by a strong online business.
Source of Idea: This idea is an adaption of the online used book selling business built by www.Amazon.com and others in this industry.