Additional Sponsors for this Page:

Gift Certificates are available when you check out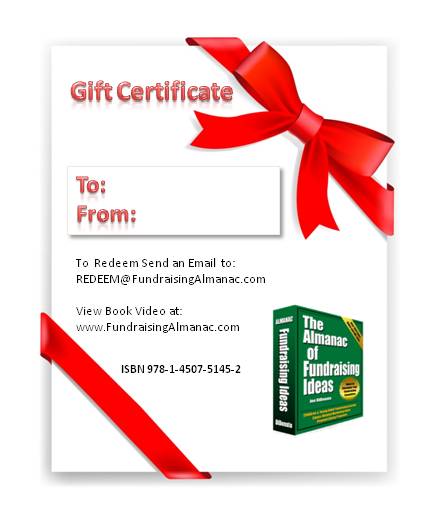 Cookie Dough Fundraising

| | |
| --- | --- |
| Potential Revenues: | $$$ |
| Revenue Source: | Sales of Cookies |
| Advertising: | Social media, press releases to local newspapers and TV/radio stations, website, signature, all communications |
| Equipment/Supplies: | Cooking facility, supplies per the video, or prepared cookie dough mixtures from www.JustFundraising.com |
| Partners: | Area businesses, restaurants, corporations, malls, supermarkets |
| Volunteers Needed: | Bakers and sellers |
How It Works:
Part of the fun of this fundraiser is that you get to cook the cookies, and of course, you'll have to sample them. In the video you can see how to make the cookie dough from scratch. If baking from scratch isn't your thing, then you can buy prepared cookie dough (and other items) from companies like www.JustFundraising.com.

Start with easy sales first: mom, dad, relatives and neighbors. As you perfect your selling technique - which should include why the people are being asked to buy the cookies - you can begin to branch out and talk with others. Perhaps bring samples with you. People tend to feel committed when they get to try something for free. Divide each cookie into 4 parts, and stick toothpicks in them for people to use.

At this point, there are two ways to go. First, you might want to have a supply of the baked cookies with you, and you can sell them right on the spot. Alternatively, you could take their order, and arrange to deliver them later.

Once you know how much the cookies are going to cost to make, you can then add some profit to each cookie, to establish a sales price.
Ideas to Consider:

If this fundraiser is for new uniforms for the school band, you might want to have one of the uniforms out on display. When people see how their money will go to use, they are more likely to purchase.

If possible get a booth or a table in a high traffic area. Places like malls, supermarkets or at a local event. This will get you lots of traffic and potential donors that you can approach.
Another idea might be to put them out at a school function, like a class play. You might even try to convince an area store to put them out for you, put know that most will be leery to do that because of all the laws around food handling in retail establishments.
Perhaps an easier approach would be to ask an area corporation if you could place them in their lobby. (This is a good time to see if you can get support from your parents.)

Source of Idea: Original event unknown, but if you do know the history of the first event, please don't hesitate to contact us at info@FundraisingAlmanac.com.