Video Courtesy of Room to Read and Parties That Cook

Our Sponsors for This Page:
To Order
The Almanac of Fundraising Ideas
eBook:
Gift Certificates are available when you check out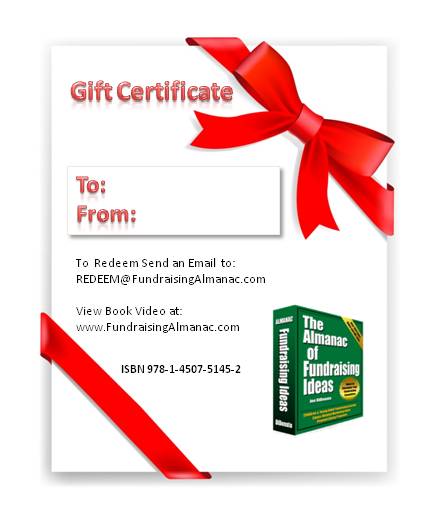 Cooking Classes

| | |
| --- | --- |
| Potential Revenues: | $$ |
| Revenue Source: | Class Fees |
| Advertising: | Social media, posters, flyers, direct mail, press releases, media ads, website, all communications |
| Equipment/Supplies: | Handout kit or Nothing |
| Partners: | Area restaurants and chefs |
| Volunteers Needed: | Greeters, people to make arrangements and take care of sign-ups |

How It Works:
Anyone interested in cooking would be thrilled to learn culinary tips from a top chef at an area restaurant. Charge a fee to attend, as well as consider including a meal after the class. If you can provide cooking tips for a diet that might be related to your cause, such as gluten-free or heart-healthy, that's even better. This cooking class suggestion would apply to any of the non-profits that deal with problems such as cancer, diabetes, heart-related problems, and some of the newer maladies such as gluten intolerance and celiac disease.
But having your cooking class event reflect your non-profit's mission is certainly not a requirement. Any type of angle, including an upcoming holiday or simply a particular style of cooking will be a draw. Think about using specialty food retailers such as a bakery that makes pastries or wedding cakes. If you're fortunate enough to live near a culinary school, then that will also be a big draw. If you can lure a top name chef, then you can do it theater style, and perhaps get a local television or radio celebrity to show up to add some dialogue to the event.
But it can be much simpler.

Just talk with some local restaurants and see what they might recommend.

The restaurants are interested in driving traffic to their establishments, especially from Sunday through Thursdays.
Ideas to Consider:
You might want to add some auctions to the event, such as related cooking items. Getting donated items, or deals, would be a great corresponding auction. Gourmet cooking items would probably be a nice raffle, or an ensemble of cooking items that might update a lot of a person's current cookware. It might even be more exotic, such as a cooking school in another country.
Include cookbooks that can be sold, especially if they are cookbooks that your group or the chef has published. If you don't have a society cookbook, perhaps you can ask your supporters to supply their top recipe that supports the book's theme. Ask the guest chef to endorse the books, and now you've created additional value.
Source of Idea:
This idea has been around for quite some time.

The first time the author viewed it was by participating in an event run by The Wellness Community – Valley Ventura at the Four Seasons demonstration kitchen in the summer of 2007.

The event showed how to prepare healthy meals, which were later consumed by the attendees.