Auto Fair for Charity

Website Link: For-Profit Example of Auto Fair
Link to example: www.NEParkNSell.com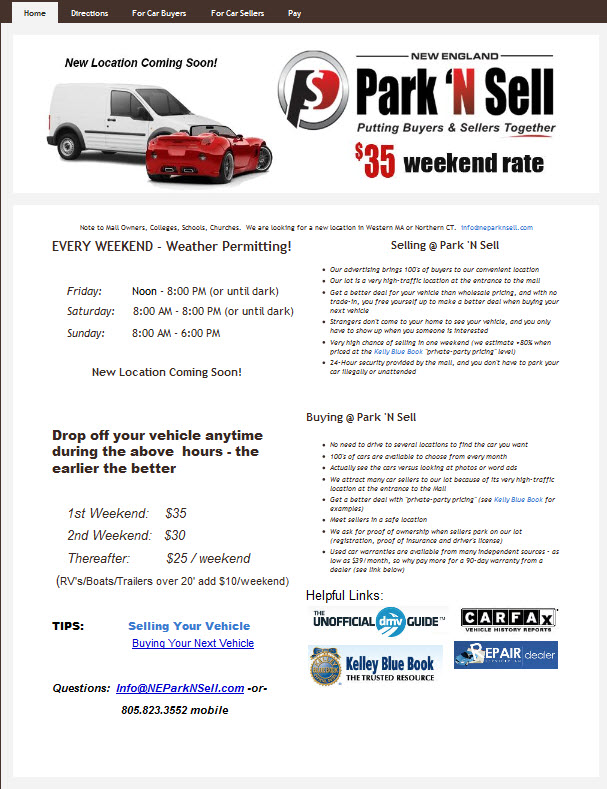 Our Sponsors for This Page:
To Order
The Almanac of Fundraising Ideas
eBook:
Gift Certificates are available when you check out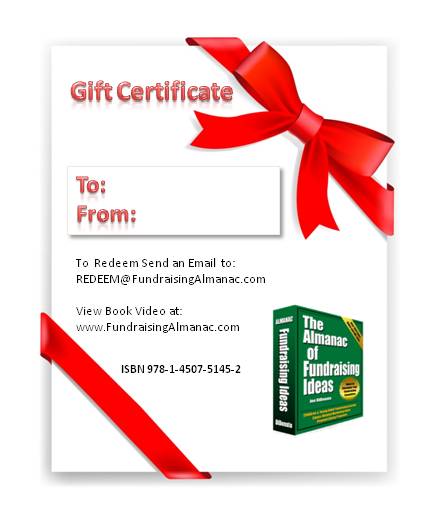 Auto Fair for Charity
Potential Revenues:

$$$$

Revenue Source:

Fees from car owners and dealers who park "for sale" vehicles; attendance fees – depending on the venue

Advertising:

Social media, posters, flyers, direct mail, press releases, media ads

Equipment/Supplies:

Parking lot, booth or tent for filling out paperwork.

Partners:

School, college or business
offering parking facilities, possibly auto dealers, auto clubs, and a celebrity

Volunteers Needed:

To manage traffic, sign-up car
owners, get the word out
How It Works:
With enough advertising and notice, this has the potential to generate a lot of revenue for your organization. Basically, vehicle owners are leaving their autos, boats, and RV's in a school parking lot for a weekend, in the hopes of selling their vehicles. Start taking in vehicles at 4-5 PM on Friday, and make sure the owners pick them up on Sunday when the event closes. Charge a fee like $35-$70 per vehicle, and with a pre-designed widow sticker that tells the price, the owner's phone number, and other pertinent data about the car, you're in business.
As the vehicles are to be kept on the lot for two nights, make sure that you have security available to watch over the cars. Insist that owners be present for any car inspections or test rides. You don't want to act as an auto dealer. You're simply allowing vehicle owners to "park their cars" at your event site for a weekend, in the hopes that they will be able to sell their cars.
Make sure owners sign a document that they are leaving the car at their own risk, and consult a lawyer to make sure you're complying with all local, state, and federal laws.
Ideas to Consider:
Best car sales months are usually right after tax season, through the first part of September. You might want to also have a celebrity available at the event, food vendors (who will give you 20% of their profits), and maybe even an antique or classical car show at the same time. Maybe a new car dealer wants to show off a new car. Invite auto dealers to participate, and give them a volume discount if they park multiple cars.
Sometimes a radio station will broadcast from an event like this, and you might even have some other entertainment available. If that's the case, then you might want to consider an admission fee to generate additional revenues. Just don't make it too high to keep people away. You want a lot of traffic.
If you plan a lot of preliminary advertising, then you might want to run the event for an entire month. You could even offer unsuccessful sellers the opportunity to come back for a reduced fee. Offer car dealers a per month car fee. Dealers will be strongly inclined to participate if you're giving them a highly visible alternative to their normal advertising and lot location. They also can demonstrate that they are supporting a great cause.
Sell banner space to related auto suppliers and servicers. Car repair services and auto supply stores would love to participate.

Source of Idea: This idea originates in the "for-profit" world and was
first seen in Southern California. Two companies that provide this
service as a continuous business are the Santa Clarita Auto Fair and the
www.NEParkNSell.com. If you're near these cities, you might want to
collaborate with these businesses to help you run a special event that benefits both their organization and yours.