Video Courtesy of TechSupportGoneBad

Our Sponsors for This Page:
To Order
The Almanac of Fundraising Ideas
eBook:
Gift Certificates are available when you check out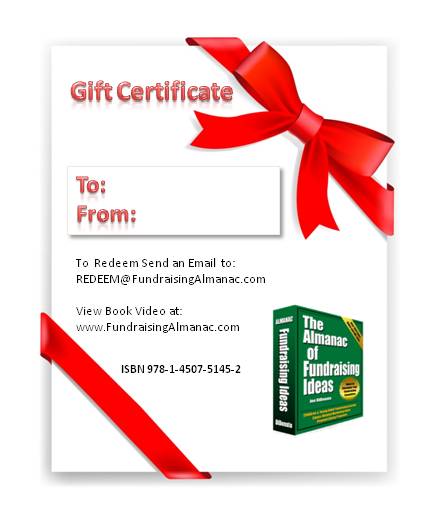 PayPal Donate Button

| | |
| --- | --- |
| Potential Revenues: | $$$ |
| Revenue Source: | Contributions via you own PayPal Donate button |
| Advertising: | Social media, eNewsletter articles, news articles on your site, internet discussion boards, press releases to local newspapers and radio stations, blogs, your non-profit's homepage, all communications |
| Equipment/Supplies: | None |
| Partners: | |
| Volunteers Needed: | PayPal Project Manager, HTML knowledgeable volunteer, supporters |
How It Works:
This is probably the first thing to do with your website – add a way for supporters to contribute to your cause. PayPal allows you to create and use Donate buttons to collect contribution payments. Donate buttons let you collect predetermined amounts or amounts entered by donors. The concept to get straight is that ALL of the payment logic is contained within the button. You'll be able to use custom graphics and descriptions and associate it with the button. Although the buttons look identical from site to site, each one is as unique as a fingerprint. When clicked, it goes to a special link that is maintained by PayPal for that particular button.

You can create Donate buttons that you add to your website by using a tool on the PayPal website, or you can write the HTML code for Donate buttons manually. The easiest way to add a Donate button to your website is by using the button creation tool on the PayPal website. As soon as you add the button, you can begin accepting contribution payments on your website.
While doing your first PayPal button can feel daunting, it's really something that can be done in a couple of minutes with some experience. Anyone who uses PayPal buttons on their site can set it up for you quickly. The video included with this fundraising example is also a step-by-step tutorial that's very easy to follow.
Ideas to Consider:
In the past, you were able to insert a PayPal Donate button on your Facebook community page. That option has since become unsupported by Facebook. Although that option is gone, you can use the Cause App integrated with Facebook to collect donations.
There are some other options open to you besides PayPal, but you should look at the terms and conditions of each of these when you consider which ones to use. Eventually, when your non-profit is big and profitable, you can even go in the direction of a commercial provider that may be able to give you lower rates. But work with PayPal, as they improve the rates as you start to go over certain monthly thresholds, the first of which is $3,000 per month. The best thing is that there are no monthly rates, and the rate is around 2.9% from the get-go.
One alternative is provided by the Network for Good organization: http://www1.networkforgood.org/donatenow-lite. This is the least expensive version called DonateNow Lite. This is the group that operates the donations for Causes on Facebook. The plus is that you can easily set up recurring payments (PayPal requires you to use a separate button that's really a marked-up "subscription button"). The downsides have historically been the rates charged: 4.75% on DonateNow Lite (charged to the donor) and 3% when you start paying a healthy monthly fee. The other downside is the $10 minimum donation requirement which in my opinion would eliminate a good subset of potential donations from the Gen Y age group. But both are good alternatives in the bigger scheme of things.
Source of Idea: PayPal for non-profits.