Video Courtesy of Unique Events Winnipeg MB

Our Sponsors for This Page:
To Order
The Almanac of Fundraising Ideas
eBook:
Gift Certificates are available when you check out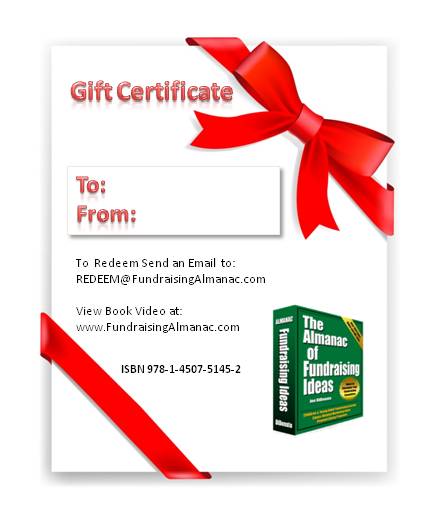 Haunted House & Village

| | |
| --- | --- |
| Potential Revenues: | $$$$$ |
| Revenue Source: | Attendance fees, food/drink sales, other sales, donations |
| Advertising: | Social media, posters, flyers, direct mail, press releases, media ads, website, all communications |
| Equipment/Supplies: | Home-made attractions, cash boxes, credit card machines, and a rubber stamp for attendance |
| Partners: | Appropriate facility as discussed below |
| Volunteers Needed: | Extensive committees to organize the event, construction of attractions, running the event, crowd and traffic management |
How It Works:
A haunted house is a lot of fun to design and create. Some large companies even have internal competitions between departments to see who comes up with the scariest work area, and then they invite families to come experience it on the last Friday of October. The venue we'll be discussing here is more the community family version that's open to the general public. As a result, you may even want to design separate areas: one for adults, one for older children, and one for the little ones. It's this variability that makes the amount of money these events can generate hard to predict. Several of these haunted house venues have reached the six-figure mark over the course of several weekends, while others are very modest in revenue.
First you need to choose a site, like a community recreation center, an old mansion, an old barn, an abandoned warehouse or manufacturing plant, or your county's fairground area. Then you need to fill it with volunteer monsters and goblins, eerie sounds and air gusts, fake spider webs and darkened rooms, some computer projections of ghosts, some sound effects and a little acting talent, and you're sure to scare up a big attendance and a lot of publicity. Combine this with other attractions and activities like a pumpkin patch, the sale of pumpkins, horse or tractor drawn hayrides, giant pumpkin contests, and similar fun venues and the crowds will line up for miles.
Better yet, rent your county fairground facility, and use the many buildings as multiple haunted houses.

Invite businesses to decorate sections or separate buildings and compete for the best haunted house setting.

Make it a huge attraction in the media.

Imagine 25-50 businesses competing, and your being able to charge $10 per person to attend.

People would come multiple times to see it all.
Ideas to Consider:
With the decorations still in place, consider conducting a Halloween Costume Ball complete with food and drinks. As you'll be close to voting season, you might want to approach some political candidates about having their events at your Haunted House venue. Politicians will be running many campaign fundraisers around that time, and this would be a great alternative to the usual events supporters get invited to attend. Their campaign headquarters will recruit plenty of supporters to a campaign fundraiser in their politician's honor, so to make money, charge them a per person fee to go through the exhibit. The politicians will add on their suggested supporter fees, and both your cause and the politician's campaign fund will be winners.
Add beverages and food to the mix, as well as candy bars with cause wrappers on them. www.iCandyWrap.com and www.BabyBar.com are starting points, and now M&M's can even be imprinted with your logo on each piece. Find out more at www.MyMMS.com. Think corporate sponsors!
If you can't get businesses to compete, work with your local Kiwanis organization to get help putting on the Haunted House event. Local farmers may also be able to donate a hayride or sell you discounted pumpkins to re-sell.
Source of Idea: Unknown origin. "Snap-Apple Night" was painted by Irish artist Daniel Maclise in 1833. It was inspired by a Halloween party he attended in Blarney, Ireland, in 1832.