Video Courtesy of Monticello Rotary Club Rally for the Parks
Our Sponsors for This Page:
To Order
The Almanac of Fundraising Ideas
eBook:
Gift Certificates are available when you check out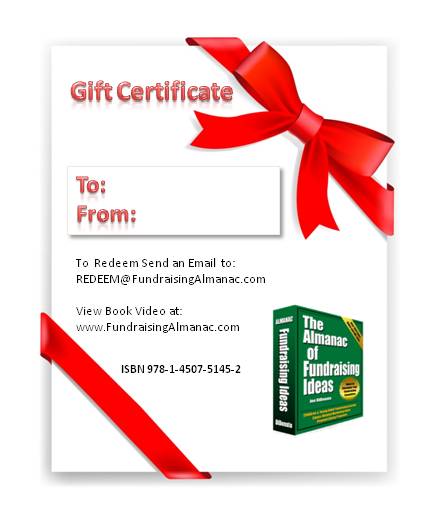 Road Rally

| | |
| --- | --- |
| Potential Revenues: | $$$$ |
| Revenue Source: | Entry and sponsorship fees |
| Advertising: | Social media, press releases to local newspapers and TV/radio stations, website, all communications |
| Equipment/Supplies: | Rally packets with directions, questions that have to be answered and scavenger list |
| Partners: | Area tour destinations, retailers, restaurants, and individuals |
| Volunteers Needed: | Committee structure to handle all aspects of the, site hosts, guides and crowd management |
How It Works:
The usual road rally venue is a form of auto racing that takes place on public or private roads, usually with modified or specially built road-legal cars. Competitors drive from point-to-point against a clock. But in this version, you're really setting up a non-racing event, with several stops or destinations along the way. Some typical tour venues include historical sites, churches, scenic attractions, museums, zoos, missions, art galleries, and even shopping malls. All of the participants are given a rally packet with the detailed locations that have to be visited, as well as a list of tour questions, and a list of items that have to be gathered at each stop.
Typical tour lengths are around 50 miles, with a per car entry fee of $25 to $100. Each participant is asked to get an additional amount donated, which is usually $250 to $1,000 per car. Depending on the sites to be visited on the rally, you may want to limit the number of cars in the event, but generally, 50 to 75 vehicles are typical.
As this is a day-long event, you'll want to include several "pit stops" along the way, which can be at simple diners, or at more elaborate settings such as an elegant dining venue at a hilltop restaurant or in a museum or aquarium. The amount of time you will allow depends on what you ask the people to do at each site, the number of destinations, and the length of time allowed for each site along the way.
A checklist of rules and items to bring might include: Bottled water, snacks, clip board, pens, containers, and a full tank of gas.

These events are usually family friendly, and as a result, include a list of rules for safety reasons.

Typical participation rules are that drivers have to be at least 18 years old, possess a valid driver's license, show a registration for the vehicle, as well as proof of vehicle insurance.

Using alcoholic beverages, bringing pets and reckless driving are usually not allowed for safety reasons or to accommodate rules or restrictions at one or more of your destinations.
Ideas to Consider:
A way to involve sponsors from the business community might be to offer that "magnetic signs" can be attached to cars in the rally – a moving billboard. In that way, your rally takes advantage of corporate sponsorships that mimic the sponsorship signage that is usually permanently painted on racing vehicles.
Perhaps the list of scavenger items that have to be gathered at each destination are really your own organization's logo items, such as a shirt, a wristband, a hat, a coffee cup and so on. In that manner, everyone gets something to remember you by, and you don't have to concern yourself with more difficult scavenger lists that take time and may even detract from your event.
If you plan a dinner in the evening, you might want to consider having it a separate event that's open to the participants, friends and the general public. That expanded venue provides an opportunity to sell raffle tickets, as well as conduct Silent and Live Auctions.
Source of Idea:
The first racing road rally was the Paris-Bordeaux-Paris Rally of June 1895.

It's unknown where the first road rally for a charity occurred. www.ScenicRoadRallies.com is a private company that offers to put road rallies together for organizations.