Video Courtesy of University of Nagasaki, Siebold Charity Flea Market - Raising Money for Myanmar and China

Our Sponsors for This Page:
To Order
The Almanac of Fundraising Ideas
eBook:
Gift Certificates are available when you check out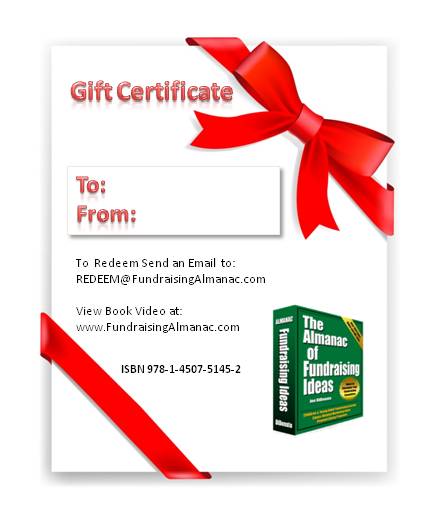 Holiday Wreaths & Poinsettias

| | |
| --- | --- |
| Potential Revenues: | $$$ |
| Revenue Source: | Sales of wreaths & poinsettias |
| Advertising: | Social media, posters, flyers, direct mail, press releases, media ads, websites, all communications |
| Equipment/Supplies: | Banners/signage, holiday wreaths, holiday poinsettias, display racks and tables, a cash box, flyers on your organization |
| Partners: | Bookstores, shopping malls, Grocery stores, www.FGMarket.com |
| Volunteers Needed: | Sales and organizing volunteers |
How It Works:
Selling holiday wreaths and poinsettias is a surprisingly good revenue generator, especially if you can secure a high-traffic location. Probably the best locations are going to be at the entrances to malls, bookstores, and supermarkets. However, you might find other places where holiday traffic is significant, like at a fast food restaurant where shoppers are grabbing a quick bite to eat while shopping.
Ideally, you'll want to start selling these items the day after Thanksgiving – also known as Black Friday in the retail trade. You'll want to continue selling right up to the December 25th holiday. If you sell about 2,000 units in this time frame, in the $10-12 price range, you will generate $20,000-$24,000 in gross sales. You will want to find a wholesaler who prices these items in the $5-$6 per price range. That means you will make about $10,000 to $12,000 in profits for your organization. Prices will vary by area of the country, so simply double your wholesale price to establish your list price. And consider stating your list price as a "suggested minimum donation."
You'll need to find a wholesaler for the wreaths and poinsettias that services your area of the country. A good place to start is the website: www.UltimateFloralIndustrySupplyGuide.com which lists wholesalers of these items around the country. Another potential source of suppliers is www.FGMarket.com. Both websites will show you other holiday and seasonal type products that are worth considering.
Starting with these websites, you'll need to call the suppliers that service your geographical area.

Make sure they know that you're going to be buying in bulk quantities.

It took me three calls to end up with a good supplier of poinsettias in Southern California at www.ArmstrongGrowers.com.

An internet search came up with several, including www.LivingColorFundraiser.com.

Both had many options available, including various types of wrapping paper for the poinsettia pots.
Ideas to Consider:
Work in the September to October time frame to secure your location, especially with the bigger malls and bookstores. If you can't get any of these places to accommodate you, team up with vendors who are selling Christmas trees during that season. As long as you're not competing with any of their products, you should find a willing partner, as you'll help to drive traffic to them as well.
You also want to get your order in early for the poinsettias and holiday wreaths, to make sure that they'll be available for you when you get ready to start. www.ArmstrongGrowers.com sent me a good timetable to follow, as well as a sample advertising flyer for taking early orders. Ask other growers if they have similar aids for you to use.
Try to find a corporate sponsor for the entire wholesale purchase. You could offer to put a pre-printed card in each plant that includes their company's name and logo, along with yours. Use plastic card holders to display your name and the sponsor's.
And you're probably tired of hearing this by now, but don't forget your resale license so that you can collect sales tax if that's necessary. Check with your legal counsel or State Attorney General's office for more information.
Source of Idea:
Believed to have originated in Europe.

In wide use in the United States by hospitals and other fundraising groups.